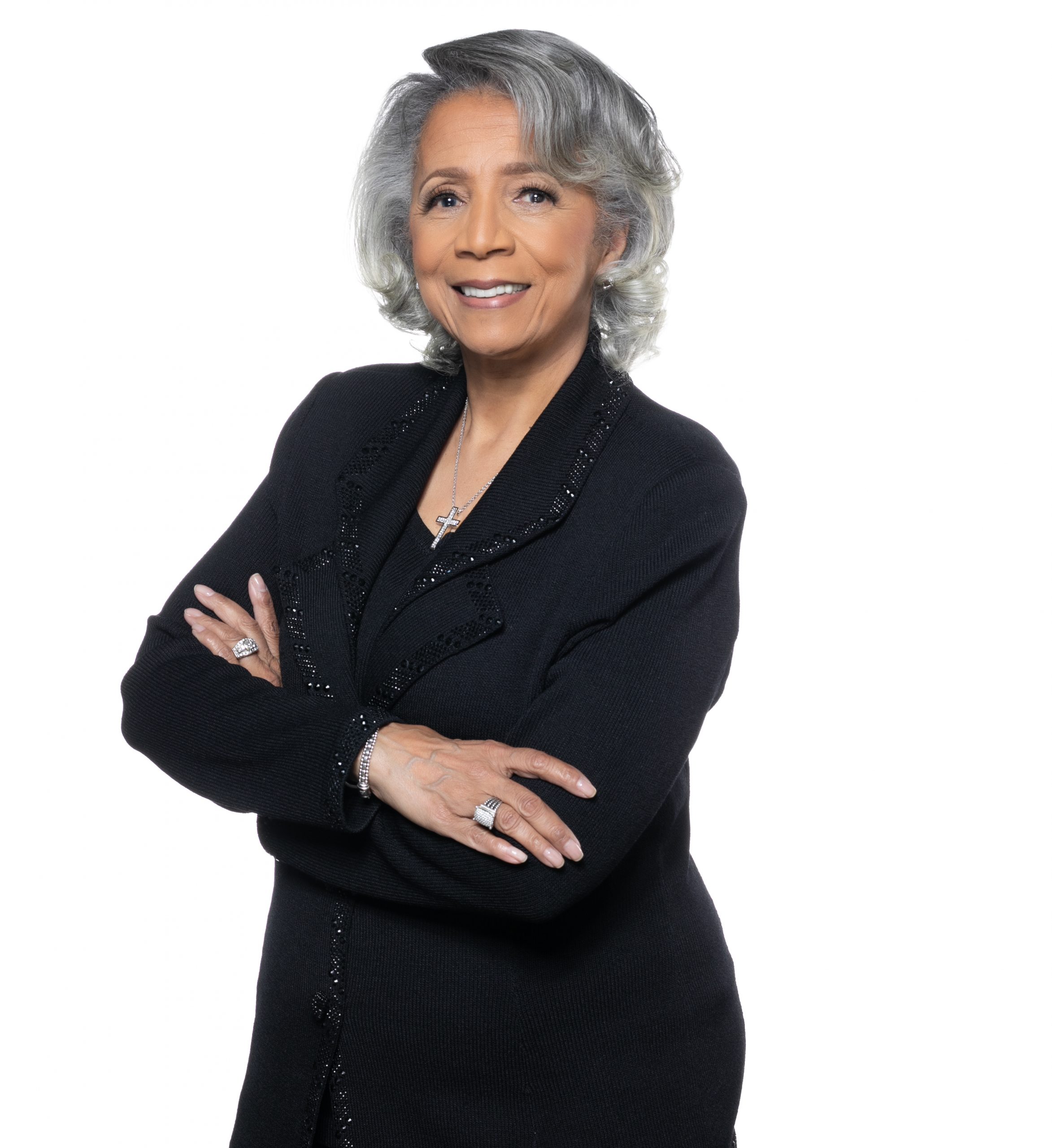 Co-Pastor Jo Ann Browning
Pastor, preacher, teacher, author, mentor, wife and mother are just a few words to describe Rev. Dr. Jo Ann Browning. Rev. Dr. Browning is the Co-Pastor of Ebenezer African Methodist Episcopal (AME) Church in Fort Washington, Maryland where she has served in ministry for 40 years with her husband, Rev. Dr. Grainger Browning, Jr., Senior Pastor. Under their leadership, lives have been changed, families strengthened, and the community transformed.
Pastor Jo Ann accepted the call to preach in 1982 at Hemingway Memorial AME Church in Chapel Oaks, MD. For a nine-month period in 1983, she served on the ministerial staff at St. Paul A.M.E. in Cambridge, MA. During that same year, her husband was appointed to pastor Ebenezer A.M.E. Church in Ft. Washington, MD, which had 17 faithful members and a $12,000 budget. Rev. Browning immediately began assisting her husband and was hired as assistant minister in 1985. From 1986-1990, she was assistant pastor and started serving as co-pastor in 1991. In 1998, the late Bishop Vinton R. Anderson, then presiding prelate of the Second Episcopal District, made the unprecedented appointment for Pastor Jo Ann Browning to serve as co-pastor of Ebenezer AME. This groundbreaking appointment has continued with the most recent reappointment in 2023 by Bishop James Levert Davis, servant leader and presiding prelate of the Second Episcopal District of the AME Church.
In addition to her pastoral responsibilities at Ebenezer, Pastor Jo Ann has preached, taught, and facilitated throughout the United States, Haiti, Bermuda, Barbados, Germany, Liberia, and throughout the southern regions of Africa. She traveled to Israel as part of an interreligious delegation for a theological and educational tour with AJC, a global Jewish advocacy organization.
Possessing a desire for women to be all that God has called them to be, Pastor Browning has envisioned and convened 38 annual women's spiritual retreats attracting thousands of women from across the nation and the globe.
She self-published her first book, Our Savior, Our Sisters, Ourselves: Biblical Teachings & Reflections on Women's Relationships in 2006. Her second book, Faithful, Focused and Fearless: Lessons to Fortify Your Future was released June 2009. In 2018, she self-published a third edition of this book.
Committed to service, Pastor Jo Ann Browning serves on several boards and has received numerous religious and community awards. She was awarded the One Thousand Churches Connected Award from Rainbow PUSH, the Cafe Mocha Religion Award, the Governor's Award of Distinction from the Gov. of Massachusetts, and she has been listed in Who's Who in Cambridge, Mass., among numerous other honors. In 2006, she received an Honorary Doctor of Divinity Degree from A.M.E. University in Monrovia, Liberia. In 2007, she was honored to preach Spelman College's Baccalaureate Ceremony where she also served on the Spelman College's Sister's Chapel Wisdom Center Executive Board for 10 years. In July 2002, Pastor Jo Ann was inducted as an honorary member into Delta Sigma Theta Sorority, Inc. In 2016, she became a member of the Board of Governors at Wesley Theological Seminary and in 2017, she accepted the request to serve on the Board of RISE TOGETHER: The National Mentorship Network for Women of Color in Ministry (WOCIM). After being invited by Prince George's County Executive Angela Alsobrooks, Pastor Jo Ann Browning was honored to serve as a member of the Prince George's Forward Task Force to help develop a multi-pronged approach to address the impact of COVID-19 on all Prince Georgians.
Recognizing the power of education, Pastor Jo Ann is a graduate of Boston University with a Bachelor of Science Degree in Communications. She also obtained a Master of Divinity Degree in 1986 and a Doctor of Ministry Degree in 1991 from Howard University's School of Divinity. While at Howard, she was a recipient of the Benjamin E. Mays, Pew Fellowships and the Rev. Vernon Johns Preaching Award. She also participated in the Princeton Center Graduate Theological Inquiry in 2004.
Pastor Jo Ann is married to the Reverend Dr. Grainger Browning, Jr. They are the proud parents of two young adult children and four grandchildren.
In all of this, she is a humble servant who has dedicated her life's work to serving God and God's people.

7707 Allentown Road
Fort Washington, Maryland 20744
Phone: (301) 248-8833
Hotline: (301) 248-9850
Virtual Services Help Desk: (301) 298-8704 or helpdesk@ebenezerame.org
Service Times
Worship Services (on-site and virtual)
Sundays at 9:00 a.m.
Bible Study (Virtual)
Wednesdays @ 7:00 p.m.