An Important Update on Return to In-Person Worship
[Updated Dec. 26, 2021] We were eagerly anticipating returning to in-person worship on Sun., Jan. 2, 2022. As a result of the increase in the coronavirus cases, we are postponing our return to in-person worship and all worship services will continue to be virtual only until further notice.
Please know this decision was not made lightly and was determined after much prayer and in consultation with medical professionals, church and ministry leadership. As a church family, we have been vigilant and sensitive to the impact of COVID-19 on our church and community members. Your safety remains our top priority and we will always do all that we can to keep you safe.
We know that a delay is not a denial and we ask for your prayers as we seek God on His timing on when we will safely gather in-person for worship at Ebenezer, the Beautiful. Please continue to stay safe and consider being vaccinated and boosted to keep yourself and others healthy. Follow us on our social media handles as we will have information on future vaccination clinics held here at Ebenezer.
Covid-19 Resources & Information
If you have any questions concerning the resources and information provided below and need additional information please feel free to email us at Healthministry@ebenezerame.org
For more information, go to the Centers for Disease Control at cdc.gov
Questions about COVID19 (info from the Centers for Disease Control and other sources)
Coronaviruses are a large family of viruses, COVID-19 is the disease caused by SARS-CoV-2, the coronavirus that emerged in December 2019. According to information from numerous sources and data, COVID-19 can be severe, and has caused millions of deaths around the world as well as lasting health problems in some who have had the illness. The coronavirus can be spread from person to person, and it is diagnosed with a laboratory test. COVID-19 vaccines have been authorized for use by the U.S. Food and Drug Administration, and the world is trying to get as many eligible people vaccinated as possible.
It is important that we get vaccinated but also practice preventative measures—wear a mask, physically distance and wash hands or use hand sanitizer. It is also very important for you to stay home and away from others if you feel ill and get tested.
What is a variant?
Viruses constantly change through mutation, and new variants of a virus are expected to occur. Sometimes new variants emerge and disappear. Other times, new variants persist. Numerous variants of the virus that causes COVID-19 are being tracked in the United States and globally during this pandemic.
Top Things You Need to Know
Variants are expected. The best way to slow the emergence of new variants is to reduce the spread of infection by taking measures to protect yourself including getting a COVID-19 vaccine when available.
Vaccines keep you from getting sick, being hospitalized, or dying from COVID-19.
All COVID-19 tests can detect all variants, but they will not tell you which variant you have.
2. One of the variants in the news is the Delta variant; should you be concerned?
The variants to date are Alpha, Beta, Gamma and Delta; there are also now reports of the Lambda and Mu variant by the World Health Organization as variants of interest.
The Delta variant accounts for nearly all of the country's COVID-19 cases, according to the U.S. Centers for Disease Control and Prevention's latest data. The agency considers delta far more contagious than the original strain.
The Delta variant was first identified in India and spreads much faster than other variants. This variant may cause more severe infections happen in only a small proportion of people who are fully vaccinated, even with the Delta variant. Some breakthrough infections are expected but remain rare. However, persons who are fully vaccinated who are infected CAN spread the virus to others. All vaccines are particularly effective against severe illness, hospitalization, and death.
3. Vaccines are a major tool in the effort to combat COVID-19 and are recommended for MOST people, but are they safe?
What You Need to Know from the CDC
COVID-19 vaccines are safe and effective.
You may have side effects after vaccination, but these are normal.
It typically takes two weeks after you are fully vaccinated for the body to build protection (immunity) against the virus that causes COVID-19.
If you are not vaccinated, find a vaccine. Keep taking all precautions until you are fully vaccinated.
If you are fully vaccinated, you can resume activities that you did prior to the pandemic. Learn more about what you can do when you have been fully vaccinated.  
The CDC does NOT recommend one vaccine over another.
4. The vaccines available in the US at this time: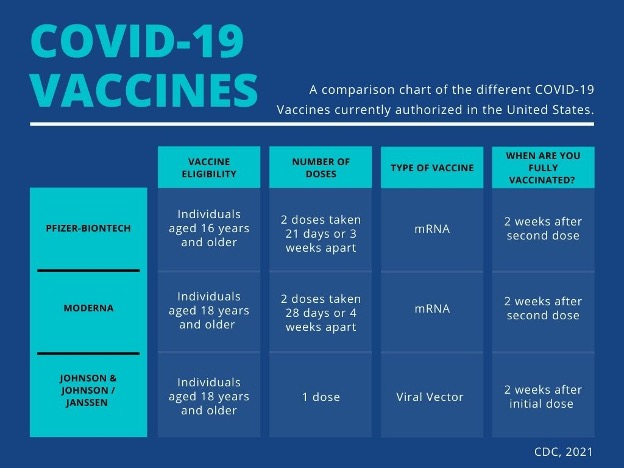 COVID-19 vaccination will help protect you from getting COVID-19, it does not mean that you will NOT get COVID-19 but it does decrease your risks and most importantly your risk of serious illness or hospitalization.
You may have some side effects, which are normal signs that your body is building protection. These side effects may affect your ability to do daily activities, but they should go away in a few days. Some people have no side effects.
Serious side effects that could cause a long-term health problem are extremely unlikely following any vaccination, including COVID-19 vaccination. Vaccine monitoring has historically shown that side effects generally happen within six weeks of receiving a vaccine dose.
5. Blacks/Minorities and COVID 19 is there a plot or conspiracy?
Quick answer: NO!
Across the country, racial and ethnic minority populations experience higher rates of poor health and disease in a range of health conditions, including diabetes, hypertension, obesity, asthma, and heart disease, when compared to their White counterparts. The life expectancy among Black/African Americans is four years lower than that of White Americans.
The COVID-19 pandemic, and its huge impact on African Americans is another example of health disparities. Recent info from the CDC shows that Black/African American, Hispanic/Latino, American Indian and Alaska Native populations in the U.S. are experiencing higher rates of hospitalization and death compared to White populations.
There are many social, geographic, political, economic, and environmental factors that create challenges to vaccination access and acceptance, and that often affect racial and ethnic minority groups. Some of these factors include:
Education, income, and wealth gaps
Job access and working conditions
Racism and other forms of discrimination
Gaps in healthcare access
Transportation and neighborhood conditions
Lack of trust because of past medical racism and experimentation
Because of these and other challenges, some Black or African American people and Hispanic or Latino people are less likely to be vaccinated against COVID-19 than people in other racial and ethnic minority groups and non-Hispanic White people.
However, OUR community must band together and get "US" vaccinated and protected.
6. Let's talk about the Myths that are out there and let's address head on:
A. Do COVID-19 vaccines contain microchips?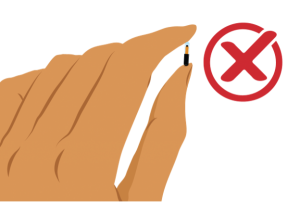 No. COVID-19 vaccines do not contain microchips. Vaccines are developed to fight against disease and are not administered to track your movement. Vaccines work by stimulating your immune system to produce antibodies, exactly like it would if you were exposed to the disease. After getting vaccinated, you develop immunity to that disease, without having to get the disease first.
B. Can receiving a COVID-19 vaccine cause you to be magnetic?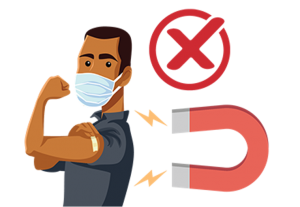 No. Receiving a COVID-19 vaccine will not make you magnetic, including at the site of vaccination which is usually your arm. COVID-19 vaccines do not contain ingredients that can produce an electromagnetic field at the site of your injection. All COVID-19 vaccines are free from metals.
C. Is it safe for me to get a COVID-19 vaccine if I would like to have a baby one day?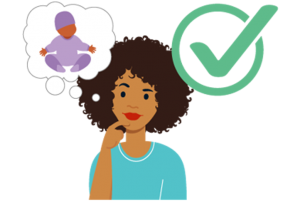 Yes. COVID-19 vaccination is recommended for everyone 12 years of age or older, including people who are trying to get pregnant now or might become pregnant in the future, as well as their partners.
Currently, no evidence shows that any vaccines, including COVID-19 vaccines, cause fertility problems (problems trying to get pregnant) in women or men.
D. Will a COVID-19 vaccine alter my DNA?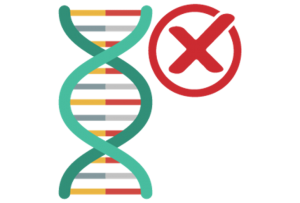 No. COVID-19 vaccines do not change or interact with your DNA in any way. Both mRNA and viral vector COVID-19 vaccines deliver instructions (genetic material) to our cells to start building protection against the virus that causes COVID-19. However, the material never enters the nucleus of the cell, which is where our DNA is kept.
7. Vaccine Mandates—can they MAKE me get a vaccine? Can I be arrested if I don't? Can I be fired?
WebMD is a good source of medical/health information that is easily understood. According to WebMD It's a law that says you must be vaccinated to do certain things like working, traveling, or even attending a concert.
But the government or other authorities can't physically force you to get vaccinated. A vaccine mandate just means that if you don't, businesses, schools, and others can legally stop you from entering the building or using their services if they choose to.
Vaccine mandates aren't new. All states require certain vaccinations before children start school, with few exemptions or the ability to opt out. And some vaccinations are required for legal immigration or international travel.
While it is true that President Joe Biden recently required all employers with 100 or more employees to make sure their workers receive the vaccine or have a COVID-19 test weekly. No, you will not be arrested or criminally charged if you are not vaccinated—it remains your choice. HOWEVER, if your employer mandates vaccination, restaurants, shows, events and venues require vaccination and you decide not to—be prepared to not be employed and to not be allowed access. However, it remains YOUR CHOICE.
Churchwide Health Forum (Delta Variant, Vaccines, and more)
Aug 18, 2021

7707 Allentown Road
Fort Washington, Maryland 20744
Phone: (301) 248-8833
Hotline: (301) 248-9850
Virtual Services Help Desk: (301) 298-8704 or helpdesk@ebenezerame.org
Service Times
Worship Services (on-site and virtual)
Sundays at 9:00 a.m.
Bible Study (Virtual)
Wednesdays @ 7:00 p.m.