The Ebenezer A.M.E. Church Poetry Ministry, whose members are known as the Anointed PE.N.S. (Poets Empowered to Nurture Souls) was established in 2003. Since then, The Anointed P.E.N.S. have ministered at Ebenezer and throughout the community, presenting poetry, hosting poetry workshops, Poetry & Praise services and open mic events. Services and celebrations are presented at area churches, nursing homes, shelters, schools, juvenile and community centers throughout the region. Membership in The Anointed P.E.N.S. is open to members of the church and poets in the community.
To the question, "Why poetry?" the response is given: "We share a love for God which we share through convicted hearts, receptive ears and a spirit that leads us to write poetry."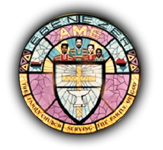 Scriptural Reference:
Meeting Day/Time: The Poetry Ministry meets monthly from 6:00 pm until 8:30 pm on 3rd Fridays (except in July & August) and hosts quarterly Poetry & Praise Open Mic services (February, April, September and November).
For more information email us at poetry@ebenezerame.org